Oxide and porosity in WC-CoCr coating
05-02-2008, 01:40 AM
ycwbycwb
Active Member


Posts: 39
Joined: Dec 2007
Reputation: 2
Oxide and porosity in WC-CoCr coating
Hi, could any experts give me some advices on how to determine differences between inherent porosity and oxides of WC-10Co4Cr coating by HVOF?

Under 400-500X light microscope, I can't determine which is which. The gray values of oxides are close to that of porosities. So when I use image analysis software to analyze porosity level, the oxides are counted in also. But in many standards such as BAC5851, the oxide and porosity levels are counted separately.

I also try to use SEM and EDS to do the job. But with metallographic method, how should I do?

Best regards,
Ycwbycwb
05-02-2008, 04:20 PM
Gordon
Administrator

Posts: 1,786
Joined: Jun 2006
Reputation: 9
RE: Oxide and porosity in WC-CoCr coating
Hi Ycwbycwb
First, in this type of coating I would consider it unlikely to find any significant metal oxide inclusions. Oxidation in this type of coating primarily involves oxidation of carbon in preference to W, Co and Cr so no solid oxide inclusions are normally formed.
This does not really help though if your image analysis software can not detect enough difference in grey levels between porosity and some darker solid phases. I can only suggest that you set up the grey levels via a standard coating of known properties. Compare results with the more labour intensive manual porosity counting and or comparison photomicrographs.
Probably more important is the metallographic preparation of your sample coatings. These coatings are very sensitive to either pull-out or smearing. Far to easy to get falsely too dense or too porous appearance in the microstructure. Preparation procedure is critical and I think tends to override somewhat issues of absolute measurement accuracy. Consistency and reproducibility is key here, as how sure can we be that the microstructure we see is actually 100% true?
I once analyse a set of coating samples for oxide content, it took me days to do linear intercept counts. The same samples were given to a lab with facilities (that I could only dream about) to do the same, but with the latest and best image analysis equipment (at the time anyway). Initially, I was disappointed and questioned my methods, when I heard that one of my 7% oxide measured samples was reported as being 14% via image analysis
When I saw the completed results, they were reporting fairly consistently double the oxide content that I had measured (over 4 - 10% range)
Consistent and reproducible apparent results - yes, accurate absolute determination of oxide content - no. Important issue is that both methods were valid for measuring relative or apparent oxide content, but the results needed clarification of method of measurement. From these results and methods used I think it will be practically impossible to determine the actual TRUE oxide content unless it can be reference to a known standard. I think this applies equally to your porosity determination.
Good luck
---
Regards Gordon

www.gordonengland.co.uk
www.surfaceengineer.co.uk
Photography Obsession
05-03-2008, 04:04 AM
ycwbycwb
Active Member


Posts: 39
Joined: Dec 2007
Reputation: 2
RE: Oxide and porosity in WC-CoCr coating
Thanks, Gordon
1. There is one free powerful image analysis tool developed by NIH---
ImageJ
. Its
manual
on how to analysis area percentage.
2. Could I know how you separate oxides from porosities, by morphology or gray level or any other?
In
this file by GE
, the oxides are described as:
Oxide clusters - numerous, typically spherical, oxide masses, grouped closely together.
Oxides - inclusions and wavy striations running somewhat parallel to the coating base metal interface.
Oxide stringers - coarser oxides with more continuous longitudinal striations.
Porosity - holes or pores within a coating. A microstructure feature containing no matter.
It also attached several micrographs(200X) as examples but did not say how.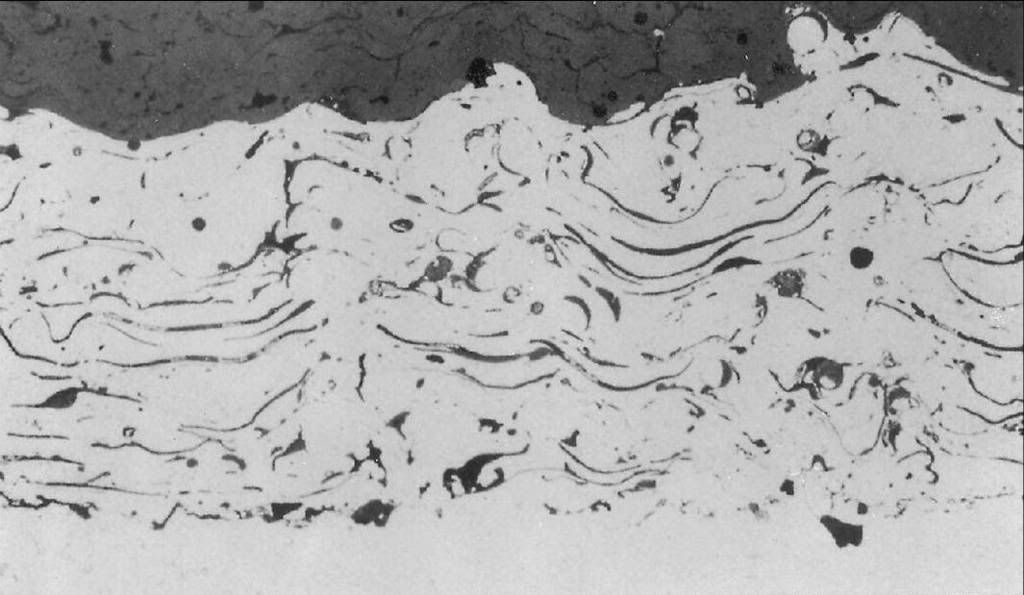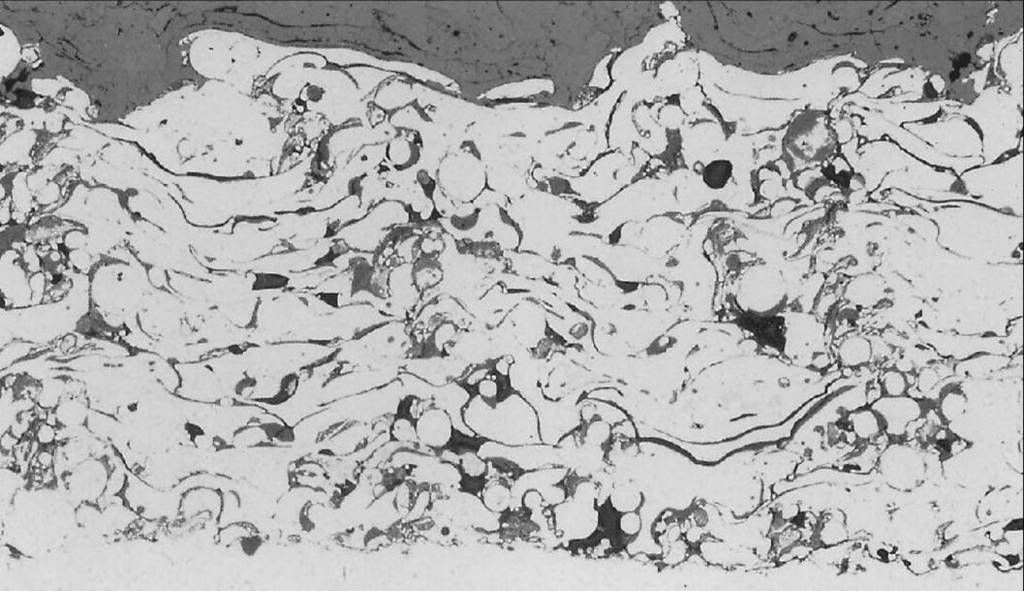 BR,
Ycwbycwb
05-04-2008, 12:41 AM
hvofhamid
Senior Member


Posts: 95
Joined: Dec 2006
Reputation: 2
RE: Oxide and porosity in WC-CoCr coating
ycwbycwb Wrote:Hi, could any experts give me some advices on how to determine differences between inherent porosity and oxides of WC-10Co4Cr coating by HVOF?

Under 400-500X light microscope, I can't determine which is which. The gray values of oxides are close to that of porosities. So when I use image analysis software to analyze porosity level, the oxides are counted in also. But in many standards such as BAC5851, the oxide and porosity levels are counted separately.

I also try to use SEM and EDS to do the job. But with metallographic method, how should I do?

Best regards,
Ycwbycwb
hello man
it depend which materiel you are spraying with and you have to analyse your WC co cr
also you have to control the spraying speed and rotation speed ,these parametres must be ajusted to obtain good coating without porosity
05-10-2008, 02:39 PM
Gordon
Administrator

Posts: 1,786
Joined: Jun 2006
Reputation: 9
RE: Oxide and porosity in WC-CoCr coating
Hi ycwbycwb
Quote:2. Could I know how you separate oxides from porosities, by morphology or gray level or any other?
I think you will need to experiment with all the image analysis techniques and microscope set up to highlight differences between porosity and oxide. Basically, if a human has a problem telling porosity from oxide, then I doubt whether a computer will do better
or at least could you trust or verify the results.
---
Regards Gordon

www.gordonengland.co.uk
www.surfaceengineer.co.uk
Photography Obsession
Possibly Related Threads...
Thread:
Author
Replies:
Views:
Last Post
Repairing of delaminated areas of a WC-CoCr coating
avalarezo
1
279
03-12-2018
08:33 PM
Last Post: Vig
Matrix cohesion problem of WC CoCr
bsjkiller
0
273
02-22-2018
02:08 AM
Last Post: bsjkiller
Porosity in D gun coating
DavidH
1
555
06-26-2017
08:48 PM
Last Post: Vadim Verlotski
Request for solution to reduce porosity in HVOF Tungsten Carbide Coatings
sreenuvundela
6
5,159
05-23-2017
06:46 PM
Last Post: loriolo
HVOF porosity
sprayloud
4
1,828
11-28-2016
02:27 PM
Last Post: MVagusta
Cr2O3 chromium oxide spray problems by Plasma
anne
9
3,055
08-01-2016
08:15 PM
Last Post: anne
How to determine the porosity level of Metco 320NS abradable coating?
viewwer
6
3,271
11-23-2015
09:57 AM
Last Post: Joris Kraak
Heat treatment after HVOF process to decrease porosity
Giroud
3
2,689
07-13-2015
05:51 AM
Last Post: aerotherm
yttria stabilized zirconia (TBC) Porosity issue
cris1904
5
2,979
04-24-2015
12:56 PM
Last Post: Joris Kraak
Brown aluminum oxide VS Chilled iron grit
Bacon
2
2,055
03-27-2015
06:23 PM
Last Post: Bacon
porosity in bronze wire spray
KevGarty
1
1,821
07-22-2014
01:45 AM
Last Post: shantanu
Metco 45vf oxide clusters
CHI3
1
2,386
05-01-2014
01:51 PM
Last Post: Gordon
Laminar oxide in hvof coating
Lazha
2
2,532
02-24-2014
09:41 PM
Last Post: KevinS
Porosity Problems Spraying Metco 72F-NS / Wc-114
J_rock
12
14,176
12-04-2013
05:18 PM
Last Post: JeffVigor
Chrome Oxide Plasma SG-100 with N2
warx
0
1,936
10-30-2013
05:54 PM
Last Post: warx
User(s) browsing this thread: 1 Guest(s)
---
Powered By
MyBB
, © 2002-2018
MyBB Group
.
© Copyright Gordon England