06-10-2009, 02:16 PM
jeff_ice
Newbie


Posts: 1
Joined: Jun 2009
Reputation: 0
Flame Spray Equipment
We are a distributer of Flame Spray equipment. Providing all the necessary equipment and accessories, such as Flame Spray systems, industrial spray guns, metal components and spare parts. Quality for us is one of the most important areas, and we strongly believe that our consistent relationship with our customers depends on our capability to ensure delivery of good quality merchandise.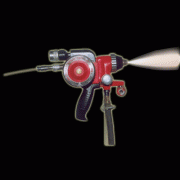 We offer spare parts and components at competitive prices for
10E, 11E, 12E, or 14E,
and complete systems to replace and or compliment your current ones.
FLAME SPRAY GUN MODEL IMC-88
Sprays pure or alloyed metals such as Zinc, Aluminum, Steel, Brass etc. in wire form by using Oxygen-Acetylene/LPG gases flame and atomized by Compressed Air.
Sprays fast and uses up to 1/8" wire, irrespective of type of wire, the wire pulling power and high speed is assured.
The gas head valve is designed for long service life and low maintenance.
A simple quick action lever operates the wire grip mechanism to start and stop the wire feed instantaneously.
JEFF_ICE@optonline.net
Possibly Related Threads...
Thread:
Author
Replies:
Views:
Last Post
Used Plasma Equipment for sale
Joe M
0
139
05-18-2019
03:50 PM
Last Post: Joe M
Used equipment for sale
Plasmajet
2
738
04-22-2019
05:05 PM
Last Post: Joe M
Is for sale used Termika-3 Mobile HVOF equipment
Yod
0
252
04-21-2019
10:42 PM
Last Post: Yod
Mobile HVOF equipment
Nesher
10
2,390
11-26-2018
10:29 AM
Last Post: Stephen Booth
Flame Spray "Sulzer Metco 6P-II" Unit for Sale
Boyut_Industries
0
592
11-16-2018
12:34 PM
Last Post: Boyut_Industries
Flexicord vs Powder for flame spray
pcdmt
1
433
10-16-2018
03:52 AM
Last Post: Stephen Booth
Arc Spray / Flame spray Equipment Suppliers
pcdmt
6
737
10-08-2018
09:48 PM
Last Post: pcdmt
HVOF equipment
Jaydev
2
3,685
02-14-2018
12:17 PM
Last Post: Nesher
Alamo Supply Co, PG-550 Flame Sprayer
ltlbull
0
1,464
07-02-2017
08:24 AM
Last Post: ltlbull
Metco vintaqge equipment
sootyjrw
1
1,379
06-06-2017
07:56 AM
Last Post: mgbaca1
Used equipment
DMack
0
1,675
04-26-2016
05:51 AM
Last Post: DMack
Trumpf laser, Sultzer Metco Powder feeder, Equipment FOR SALE
csisemi
0
2,127
01-12-2016
09:25 AM
Last Post: csisemi
Online Characterization of Particles during Thermal Spray & Cold Spray Processes
Parat Tech
2
2,547
12-07-2015
08:26 AM
Last Post: RV_DMG
Misc Equipment Availible
cincykids
4
3,586
11-10-2015
07:46 PM
Last Post: Kkenny
Used Thermal Spray Equipment
LEN WOOD
5
13,711
11-09-2015
02:15 PM
Last Post: Kkenny
User(s) browsing this thread: 1 Guest(s)
---
Powered By
MyBB
, © 2002-2019
MyBB Group
.
© Copyright Gordon England